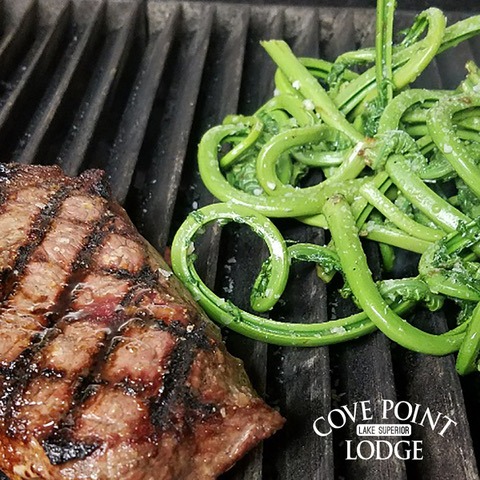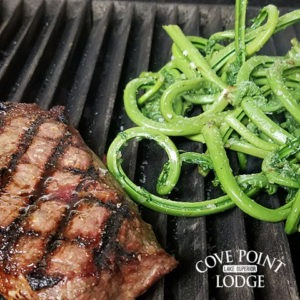 Even for the most seasoned North Shore vacationer – there are always new adventures to be found.  Have you ever looked for Fiddlehead Ferns?  This edible foraged food can be found when the snow melts and the river waters swell, as curled plants resembling the scroll of a violin creeping up from the forest floor. For a short time, they stay curled ready to be picked and eaten, resembling the taste of asparagus.
Where to look: Cove Point Lodge Spur Trail The Superior Hiking Trail (SHT) spur trail (http://greatlakesdrive.com/GLD/property/cove-point-spur-trail-sht/) that begins in the parking lot of the lodge may be just the trail to find these illusive plants.  This trail was built in 1996 by volunteers from Cove Point Lodge and brings you on a loop with breath taking views from the dramatic cliffs above the Beaver River and at Fault Line Ridge. You will walk along small creeks and dense forest floors as you work your way to the gorgeous vistas.  So, even if the Fiddlehead Fern eludes you, the hike will not be made in vein.
Prepping your Fiddleheads for the table
When it comes to eating these vitamin-rich greens, which are considered a delicacy in some parts of the world, you can boil them in a pot of water for 7 minutes or so, then drain and sautée in butter, sea salt and a hint of lemon at the end. Less is really more in this case, and it doesn't take much to create a delicious side dish.Then you can relax in your cottage gazing at Lake Superior enjoying the bounty of your day.