Special Packages & Offers
Plan your North Shore Adventure with Miles of Open Space to Explore
Your serene getaway on the scenic North Shore awaits you at Cove Point Lodge. Nestled next to Lake Superior, Cove Point Lodge is the perfect place to relax after a day spent exploring trails, beaches, and forests. We are happy to help you find the way to your perfect North Shore adventure. Access the Gitchi-Gami Bike Trail and ride to nearby Split Rock Light House and Gooseberry Falls State Parks from our driveway. Seek out nearby waterfalls. Picnic on our lawn. Relax at Mickey's Fish House. Star gaze next to our campfire. Finish your book in front of our lodge fireplace. Hike the Cove Point Loop which includes portions of the 310 mile Superior Hiking Trail. Find secluded lakes. Seek out your adventure. Celebrate your special occasion. Get back to you.
Don't Miss May Madness Savings
We're giving away a gift card with every reservation that has an arrival date in May! Join us this spring, and you'll receive $25 to use towards your lodging or in our gift shop or restaurants!   Find your offer below and book now for May and then grab your gift card at check-in and then explore the North Shore!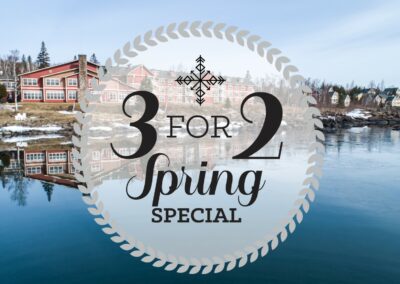 For Stays Through May 26th, 2022
---
Limited Time Offer - Spring 3 for 2 Savings
Learn More