Dear Guest,
We're so glad that you're here! We are happy to welcome you to Beaver Bay and the beautiful North Shore. As valued guests, we hope that you enjoy all the amenities of our resort. We're looking forward to creating amazing memories with you. This guest directory is a collection of information about Cove Point Lodge and the local area. If you don't find what you're looking for, please ask any of our team members for assistance. We are happy to point you in the right direction. Our front desk staff is available 24 hours a day. Lodge guests should dial 0, and cottage guests can reach us by calling 218-226-3221. We'll be glad to hear from you!
Your feedback, suggestions, and comments are very important to us, and we want you to have the best experience possible. During your stay, if there is anything that we can do to help make your stay the very best, please don't hesitate to ask. We're here for you! After checkout, you should receive an email upon checkout with a link to our guest survey. We'd love to hear your thoughts.
Thank you for choosing Cove Point Lodge for your North Shore getaway. We hope that you enjoy your time with us. We very much enjoy our time with you!
Warmly,
Kate Williams
General Manager
Cove Point Lodge
kate.williams@covepointlodge.com
PERSONAL EMERGENCY
If during your stay you would ever need to dial 911 in your room or on the property, please contact the front desk as well so they can help direct the first responders to the injured party.
WHAT TO DO IN CASE OF A FIRE
Exit building according to the emergency exit map located in your room.
Go to nearest exit. There are exits at each end of the hallway. Refer to the map on the back of your door located in your room.
Once outside, move to an area that is a safe distance from the burning building.
Find the nearest house phone or another guest unit located away from the fire and dial "0" for the Front Desk or use your cell phone to dial 911.
Give your name and exact location of the fire. Cottage number, room number, floor, etc.
If you called the Front Desk, they will call 911.
Do not return to the building until advised by the fire department.
Try to assemble all people from your unit into one group so it can be quickly determined that everyone is safe and present.
WHAT TO DO IN CASE OF A TORNADO OR SEVERE WEATHER
Guests should take shelter when severe weather threatens or when directed to do so by the Front Desk.
Guests will be directed to the first floor and the Front Desk. Guests are to gather in the area behind the Front Desk and in the kitchen. Also, guests are able to congregate in the stairwells at the end of the hall on the first floor.
Guests should remain there until a Cove Point Lodge employee gives the "all clear".
If there is not enough time to make it to the lower level safely, guests are to stay in their cottage, in a room or hallway away from windows. Put as many walls between you and the outside as possible.
DIRECTIONS TO NEAREST HOSPITAL
Lakeview Hospital – Two Harbors, MN
325 11th Ave, Two Harbors, MN 55616
(218) 834-7300
Go to Highway 61, take left to head south on Highway
61. Drive 24 miles on 61. Take right at first stoplight
(4th st). Hospital 1/4 mile on your right.
BREAKFAST
Please fill out your order card and place it on the hook outside your room before 8:00 p.m. each evening. Breakfasts will be available for pick up at the time that you indicate.
HEATING AND AC
The heat for your room is controlled by the thermostat on the wall. If your room has an air conditioner over the entrance door, this is operated using the remote mounted on the wall near the door.
HIKING INFORMATION
We are happy to get you started on your day's adventure. Please stop by the front desk for maps and information.
SOCIAL DISTANCING
Guests are required to practice proper social distancing when interacting with other guests in the Lodge, in Mickey's Fish House, at the campfire, and throughout all our outdoor spaces.
TROUBLESHOOTING THE LAMP
If a lamp will not turn on, please make sure that the light switch near the front door is in the on position.
WATCHING TELEVISION AND DVD's
To change the input on the television, press the gray AV button in the top center of the TV remote.
To get to the DVD input press the gray AV button again, repeatedly until the HDM2 OR the Component selection is highlighted, then press the OK button in the center of the remote. If the DVD player is on prior to changing it over it will be easier to find the correct input selection.
To get back to the cable input press the gray AV button again, repeatedly until the HDM1 selection is highlighted, then press the OK button in the center of the remote.
STAYOVER SERVICE
Please read the laminated information placed on your bed to learn about our stayover and supply replenishment procedures.
SNOWSHOES
Snowshoe rentals are free and available on a first come first serve basis. Please inquire at the Front Desk.
BIKE RENTAL
We offer year round bike rentals with the Gitchi Gami bike trail running through our property. At Highway 61, you can ride on a paved trail all the way to Gooseberry State Park to the south, and Silver Bay to the north.
$10 for 2 Hours
$17 for 4 hours
$32 for all day (must be returned by 9pm)
Tandem: add $10
Tag a Long: add $12
Burley: add $15
DVD'S
Guests are welcome to enjoy our DVD library during their stay. After use, please return DVD's to our front desk to be sanitized.
BOARD GAMES
Enjoy our board games! Games can be brought back to your room. When you are finished with a game, please return it to the front desk so that we are able to sanitize it for the next guest.
CAMPFIRE AND SMORES
Smore packs and roasting sticks are available at the Front Desk. After your time at the campfire, please return your roasting stick to the front desk to be cleaned and sanitized.

THE POINT TRAIL
This area is very fragile and sensitive so we ask that you stay on the trail. Follow the fish house shoreline along the rocky beach area and make your way towards the center of the point.

EVENING CAMPFIRE
Weather permitting, campfires can be built at the fire pit next to Mickey's Fish House. Please do not build campfires in any other areas.
We have complimentary S'more supplies available at our front desk. Please ask!

MICKEY'S FISH HOUSE
Mickey's Fish House down by the campfire is reminiscent of fishing operations that dot the coastline throughout places like the Sognefjord. But this quaint shelter isn't a recent addition to the shore. This is the original Fish House that Mickey Lornston used when he and his family lived in a modest house, on the current Cove Point Lodge property (Located approximately where the lobby is today). He was a fisherman, who fished in the cove and in the waters in front of Cove Point Lodge. He had wooden docks that have been crushed by the waves of the lake over time, of which he'd pull his small 1-man fishing boats in/out of the water. If you look off the deck in front of the fish house, you may spot the old wood between the rocks in the water.
Today, Mickey's Fish House is used as a reminder of the history of the property. Guests have been enjoying the covered deck, and space inside as a simple stop as they explore the property, or more formally for weddings, retreats, reunions, conferences, club or team gatherings, etc. Mickey lives in Two Harbors in assisted living and still enjoys telling stories of his fishing days.
AIRPORT
Silver Bay Municipal Airport
Range Regional Airport
Thunder Bay International Airport
Duluth International Airport
BOATS/KAYAKS/CANOES
PONTOONS/WATERBIKES
Beaver Bay Sports Shop Inc
(218) 226-4666
4878 MN-61, Beaver Bay, MN 55601
Lax Lake Resort (cash only)
(218) 353-7424
5736 Lax Lake Rd, Silver Bay, MN 55614
Silver Bay Marina
(218) 226-3121
99 Beach Dr., Silver Bay, MN 55614
Sawtooth Outfitters
(218) 663-7643
7213 Hwy. 61 – P.O. Box 2214 – Tofte, MN 55615
CAR RENTAL
Enterprise Rent-A-Car
(218) 722-5800
301 E Central EntranceDuluth, MN 55811
Hertz
(218) 623-1053
4444 Airpark BlvdDuluth, MN 55811
TWO HARBORS AREA CHAMBER OF
COMMERCE
Local: (218) 834-2600 or (218)-834-6200
1330 Hwy 61, Two Harbors, MN 55616
CHARGING PRIVILEGES
As a guest, you have the ability to charge items at the resort to your guest room.
CHECK IN/CHECK OUT TIMES
Check in is after 4:00PM on your arrival day. We are happy to honor early check-in providing your accommodations are ready and available. Check out is 11:00AM.
CONFERENCE SPACE, MEETING & WEDDINGS
Our Viewpoint meeting room with spectacular views of Minnesota's Lake Superior. Whether your meeting involves strategizing, brainstorming or training, the Viewpoint offers an aesthetic appeal that will enhance your meeting experience, and contribute to achieving your goals.
The Viewpoint is 1,000 square feet and accommodates groups up to 50 people at round tables and 50 people in a classroom style setting. Catering services are available, or you may enjoy beautiful lake views while dining in our restaurant. Meet, eat, sleep and swim, with the convenience of being under one roof.
Your wedding day will be memorable and beautiful at Cove Point Lodge! Whether you choose the intimacy of the ViewPoint Room (accommodates up to 50 people) for your reception dinner, or the elegance of Cove Point's restaurant overlooking Lake Superior, the memories of your wedding day will be etched in your heart forever. We are happy to assist you in planning this very intimate and special day in your life! We are able to host weddings November through mid-June.
CHURCHES
Silver Bay Baptist Church
12 Law Dr, Silver Bay, MN 55614
Phone: (218) 226-4202
United Protestant Church
17 Horn Blvd, Silver Bay, MN 55614
Phone: (218) 226-3973
Bay Area Vineyard Church
99 Edison Blvd, Silver Bay, MN 55614
Phone: (218) 220-7650
Sychar Lutheran Church
14 Edison Blvd, Silver Bay, MN 55614
Phone: (218) 226-4424
Faith Lutheran Church – LCMS
105 Outer Dr, Silver Bay, MN 55614
Phone: (218) 226-3908
St. Mary's Catholic Church
57 Horn Blvd, Silver Bay, MN 55614
(218) 226-3691
NEARBY PARKS
Black Beach Park
Silver Bay, MN 55614
Tettegouche State Park 
5702 MN-61, Silver Bay, MN 55614
Gooseberry Falls State Park 
3206 US Hwy 61 E, Two Harbors, MN 55616
Split Rock Lighthouse State Park
3755 Split Rock Lighthouse Road
Two Harbors, MN 55616
CLINICS
Bay Area Medical Clinic
50 Outer Dr, Silver Bay, MN 55614
Phone: (218) 226-4431
Lake View Hospital
325 11th Ave, Two Harbors, MN 55616
Phone: (218) 834-7300
COFFEE SHOP
The Big Dipper Ice Cream Shop
1003 Main St, Beaver Bay, MN 55601
Phone: (218) 226-3517
(Hours may vary with the season)
CREDIT CARDS
When you present your debit or credit card at checkin, our credit card system automatically reserves the amount of your stay. It can take up to ten days for this amount to be credited back to your account. If you wish to avoid this amount being taken out of your banking account, please provide us with another credit card at check-in. If you would like to put your final bill on your debit card, you may switch the form of payment to your debit card at check-out. A credit card is required at check in. Visa, American Express, MasterCard and Discover are accepted.
DAMAGE & NOISE COMPLAINT
We ask you to be polite guests and neighbors so everyone may enjoy their stay. After your departure, a full inventory and damage inspection is done in the accommodation. If any damages were incurred during your stay, your credit card will be billed for the costs plus 5%.
If a noise complaint is received, we expect compliance of the request. Any discounts or credits the resort may incur will be charged to the unit the complaint was issued.
DRESS CODE
RELAX…we are casual, enjoy northern Minnesota
FIREWORKS
For the safety of all our guests, fireworks (of any kind) and sparklers are not allowed on the resort properties.
FISHING GUIDE SERVICES
We work with a variety of local guides. Please contact guest services to assist in setting up your guide.
FLOWERS
Zup's Dollars Flowers and Gifts
1 Shopping Center Rd, Silver Bay, MN 55614
Phone: (218) 226-9901
GIFT CARDS
Gift cards for the Lodge are available at the Front Desk.
GOLF COURSES
Silver Bay Golf Course
17 Golf Course Rd, Silver Bay, MN 55614
Phone: (218) 226-3111
Lakeview National Golf Course
1349 MN-61, Two Harbors, MN 55616
Phone: (218) 834-2664
Superior National Golf Course
5731 MN-61, Tofte, MN 55615
Phone: (218) 663-7195
GROCERIES
Two Harbors Super One Foods
802 11th St, Two Harbors, MN 55616
Phone: (218) 834-5651
Finland Co-op Co
6648 MN-1, Finland, MN 55603
Phone: (218) 353-7389
Zup's Grocery
3 Shopping Center, Silver Bay, MN 55614
218-226-4161
GUEST SERVICES
Questions or comments? Please dial 0 for any needs you may have.
GUEST ROOMS/HOUSEKEEPING
To best protect both our guests and employees, daily lodge room housekeeping service is not available. A place will be provided for guests to dispose of their trash and deposit any unwanted linens in each of our hallways. Additional linens, towels, and room supplies like coffee, toiletries, and cups will be provided upon request. Please call or stop by the front desk. We are happy to help.
STAYOVER SERVICE
To best protect both our guests and employees, stayover service will not be available. Guests will receive a daily linen and supply bag, and a place in each hallway will be provided for guests to dispose of their trash and deposit any unwanted linens.
ICE
Is located on the first floor across from the public restrooms.
LAKE SUPERIOR (SIZE)
The North Shore of Lake Superior runs from Duluth, Minnesota, United States, at the southwestern end of the lake, to Thunder Bay and Nipigon, Ontario, Canada, in the north to Sault Ste. Marie, Ontario, in the east. The shore is characterized by alternating rocky cliffs and cobblestone beaches, with forested hills and ridges through which scenic rivers and waterfalls descend as they flow to Lake Superior.
LIQUOR STORES
Silver Bay Municipal Liquor
97 Outer Dr, Silver Bay, MN 55614
Phone: (218) 226-3106
Green Door
1002 Main St, Beaver Bay, MN 55601
Phone: (218) 226-3437
LOST & FOUND
Please call Front Desk
NEWSPAPER
Available in the Lobby.
PHARMACY
Essentia Health-Silver Bay Pharmacy
99 Edison Blvd Suite L, Silver Bay, MN 55614
Phone: (218) 226-3829
PHONE CHARGES
Room to room calls, dial room number.
Local and 800 calls are free of charge. Dial 9, then the number.
PIZZA
Crossings Bar & Grill
Right here at Cove Point Lodge
Phone: (218) 226-4036
Jimmy's Pizza
96 Outer Dr, Silver Bay, MN 55614
Phone: (218) 226-4142
POOL, WHIRLPOOL & SAUNA
Our indoor swimming area is located on the lower level and is open from 8:00am-11:00pm. Towels will be provided in the pool area, you do not need to bring towels from your room. Adults only from 9-11pm.
POST OFFICE
United States Postal Service
1014 Main St, Beaver Bay, MN 55601
Phone: (800) 275-8777
United States Postal Service
13 Shopping Center Rd, Silver Bay, MN 55614
Phone: (800) 275-8777
RESERVATIONS
One night's deposit by credit card is required at time of reservation to guarantee your reservation.
RESTAURANTS
Lodge Dining
Fine dining with views of Lake Superior. Serving dinner nightly at 5pm. The Front Desk staff can generally assist you with a beverage from the bar until 11 pm. Room service is available when the lodge restaurant is open. Lodge dining opens at 5pm.
Crossings
Crossings opens at noon most days, please call Guest Services 218-226-3221 for hours.
VENDING/ICE
Ice and vending machines are located across from the
restrooms near the lobby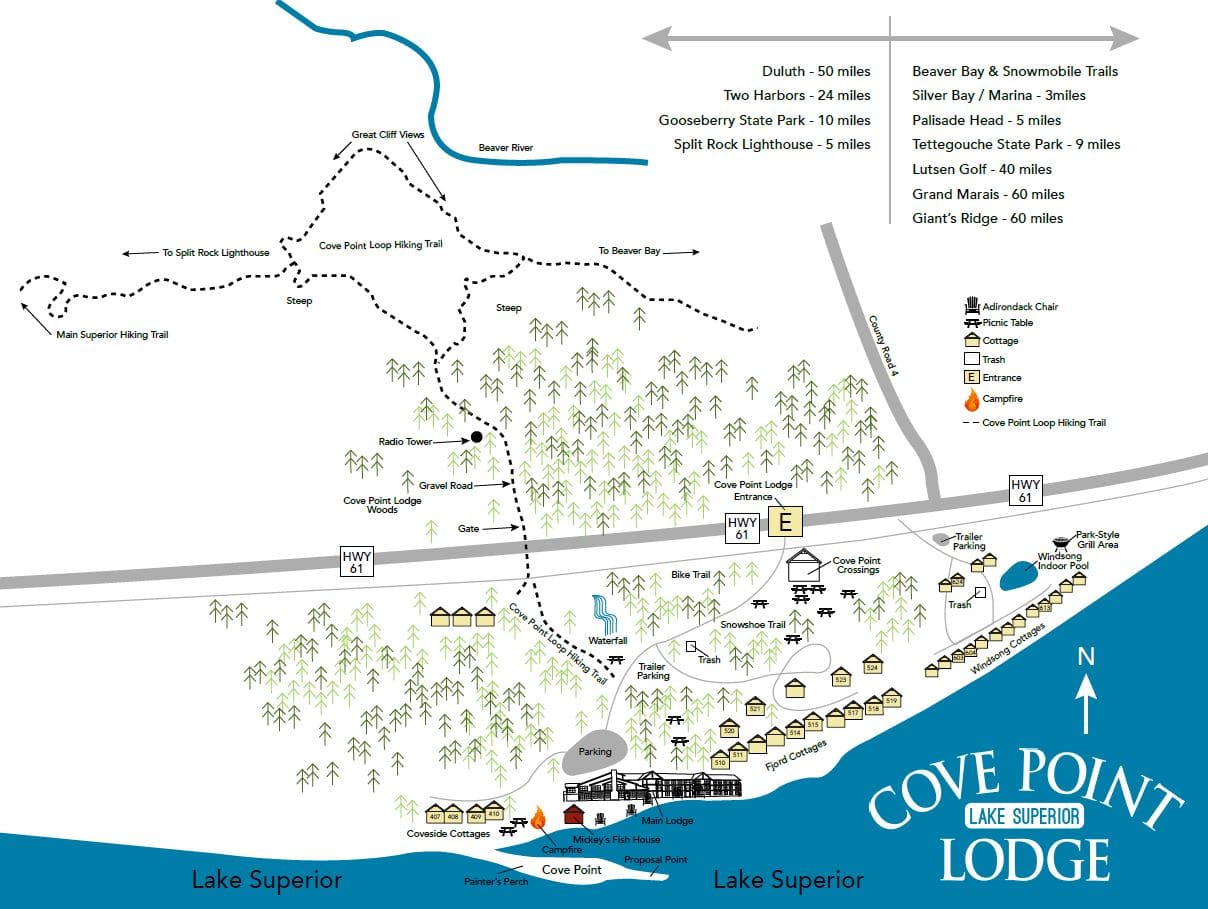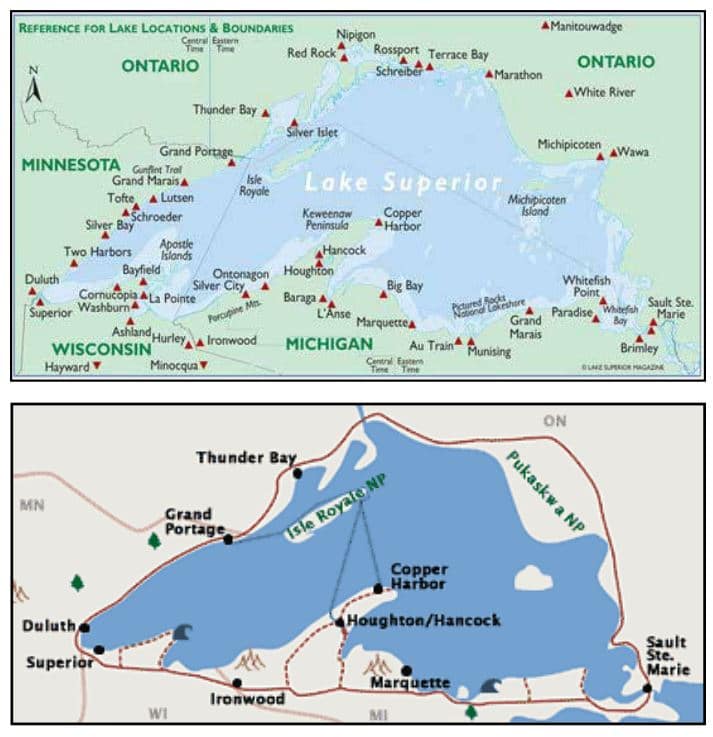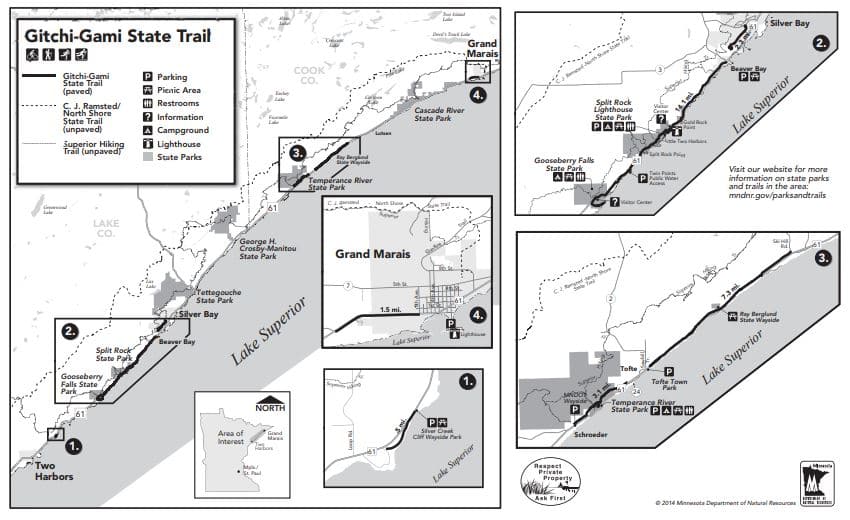 SPLIT ROCK LIGHTHOUSE – provides tours, picnics, hiking and wonderful opportunities for photos
GRAND MARAIS – shopping, eating and pebble beach for rock skipping
GOOSEBERRY FALLS – magnificent falls and interesting trails
LUTSEN MOUNTAIN – skiing in the winter and Alpine Slide in the summer. Gondola Rides and mountain biking
SUPERIOR HIKING TRAIL – Cove Point Lodge Loop, or ask the front desk for information about the trailhead shuttle
PALISADE HEAD
SHOVEL POINT at Tettegouch State Park
GRAND PORTAGE
Play a round of golf in Silver Bay, Two Harbors, Duluth, or Lutsen
Bike on the Gitchi-Gami Bike Trail
Fish for trout at the Baptism River near the town of Isabella
Go dog sledding in Duluth or Grand Marais
Go blueberry picking in August
Find out about shipwrecks near Split Rock and Two Harbors
Visit the gift shops along the shore to find unique gifts for friends
Have dinner at Trestle Inn Pub on Crooked Lake – which was constructed from an old railroad trestle bridge
Bocce ball – equipment is available at the front desk
Geocaching
Evening camp fire – weather permitting, camp fires can be built at the fire pit next to Mickey's Fish House
Read a book next to the fireplace in the lobby
Rent a movie from the lobby and enjoy a relaxing evening in your room
AND MORE!
Click here to view nearby waterfalls…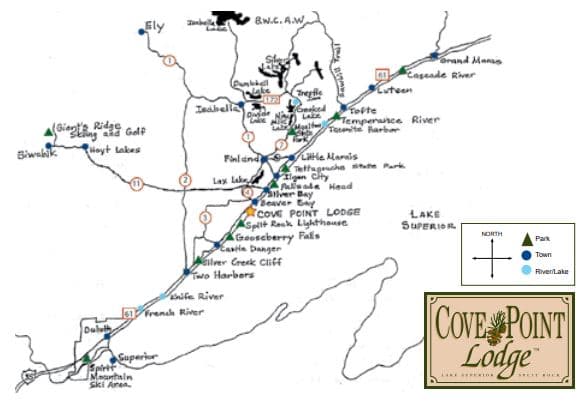 1 Information
2 KDLH (CBS) Duluth
3 KDLH (CW) Duluth
6 KBJR (NBC 6) Duluth
8 WDSE (PBS 8) Duluth
9 KBJR (MyNet 9) Duluth
10 WDIO (ABC 10) Duluth
12 Silver Bay Local Access
13 Two Harbors Local Access
14 C-Span
15 C-Span 2
16 C-Span 3
18 TBN
19 EWTN
20 Anntenae TV
21 KQDS (FOX 21) Duluth
22 QVC
23 HSN
24 The Weather Channel
25 MeTV
26 PBS
27 Create
29 The MN Channel
30 WDIO DT3 ION TV
102 HLN
103 CNN
104 MSNBC
105 CNBC
107 FOX News
108 FOX Business Channel
110 ESPN
111 ESPN2
115 FOX Sports North
116 FOX Sports 1
121 Investigation Discovery
126 FOX Sports North Plus
127 Big Ten Network
128 Big Ten Network Overflow
129 History
130 National Geographic
131 Discovery
132 Discovery Family
133 OWN
138 Animal Planet
139 TLC
140 Science Channel
145 Cartoon Network
151 Disney
166 E!
168 Freeform
172 USA Network
174 TNT
175 TBS
176 FX
177 FXX
179 SYFY
181 Reelz
182 A&E
183 Lifetime
184 Lifetime Real Women
185 Lifetime Movie Network
186 Oxygen
187 Hallmark
189 Bravo
202 HGTV
204 Food
207 Travel
261 Golf
264 NBCSN
558 A&E HD