Dining on the Shores of Lake Superior
Your Incredible North Shore Dining Experience Awaits
Cove Point Lodge is truly a unique dining destination. From inspired fine dining crafted with local ingredients to mouth-watering pub fare, our food is as memorable as the incredible views. Make the most of your North Shore experience and come ready to enjoy some delicious creations from our two highly rated restaurants.
Make Your Day Scandinavian Continental Breakfast​
We're happy to help you fuel up for your day's adventure! Breakfast is complimentary for all of our lodge guests, and $8.00 per person for our cottage guests.
Join us from 7:00 a.m. to 9:00 a.m. for a Scandinavian style breakfast buffet served in our lodge dining room. Enjoy a seat in the restaurant, or at one of our outdoor picnic tables. Boxes are also available for those eager to hit the trail running. Our complimentary coffee bar and tea bar is available 24 hours a day.
Items on our breakfast bar include:
Whole fresh fruit, Yogurt, Granola, Lingonberries, A selection of cheese and salami, Hard boiled eggs, Pickled beets, Cucumber salad, Pickled herring, Baguettes, Bagels, Smoked salmon spread, peanut butter, jelly, cream cheese, and Nutella, Cereal and milk, Granola and trail bars
-In order to best accommodate our guests, breakfast is not available for the general public-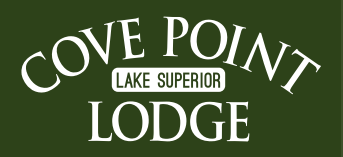 Lodge Dining Room
Imagine an intimate dining space with sweeping views of Lake Superior from every table and the famous point from which Cove Point Lodge got its name. Add to the views a dining room with exquisite chef-inspired local fare, tables covered with crisp white linen tablecloths, candles, and an extensive wine list and menu designed to satisfy your North Shore Experience. Enjoy a unique fine dining experience in an incredible setting, and filled with our down-home hospitality.
The Lodge dining room is open every evening from 5:00 p.m. to 9:00 p.m during the summer and fall. We are open until 8:00 p.m. in the winter and spring. Reservations are required for sit-down dining, and there is a limited take out menu available. 
View Our Menus

Crossings Bar & Grill
Please call ahead for groups larger than 6.
Our current hours are listed below:
Friday and Saturday: 3 – 8 Join us for Cantina Nights, featuring a revolving authentic Mexican focused menu.
Sunday: 11 – 7 – Pizza, salads, and wraps
Stay tuned for our expanded summer hours!
The Crossings started in 2003 on Minnesota's majestic North Shore. From our origins as a corner bar with solid American pub fare we've been extremely fortunate to show host to thousands of dedicated eaters from locales near and far.
Our values are uncomplicated. Support your community. Eat great food. Get outside as much as you can. Ready for some trail time? We can't wait to be a part of your North Shore adventure!